Santa Maria Tonameca, Oaxaca, Mexico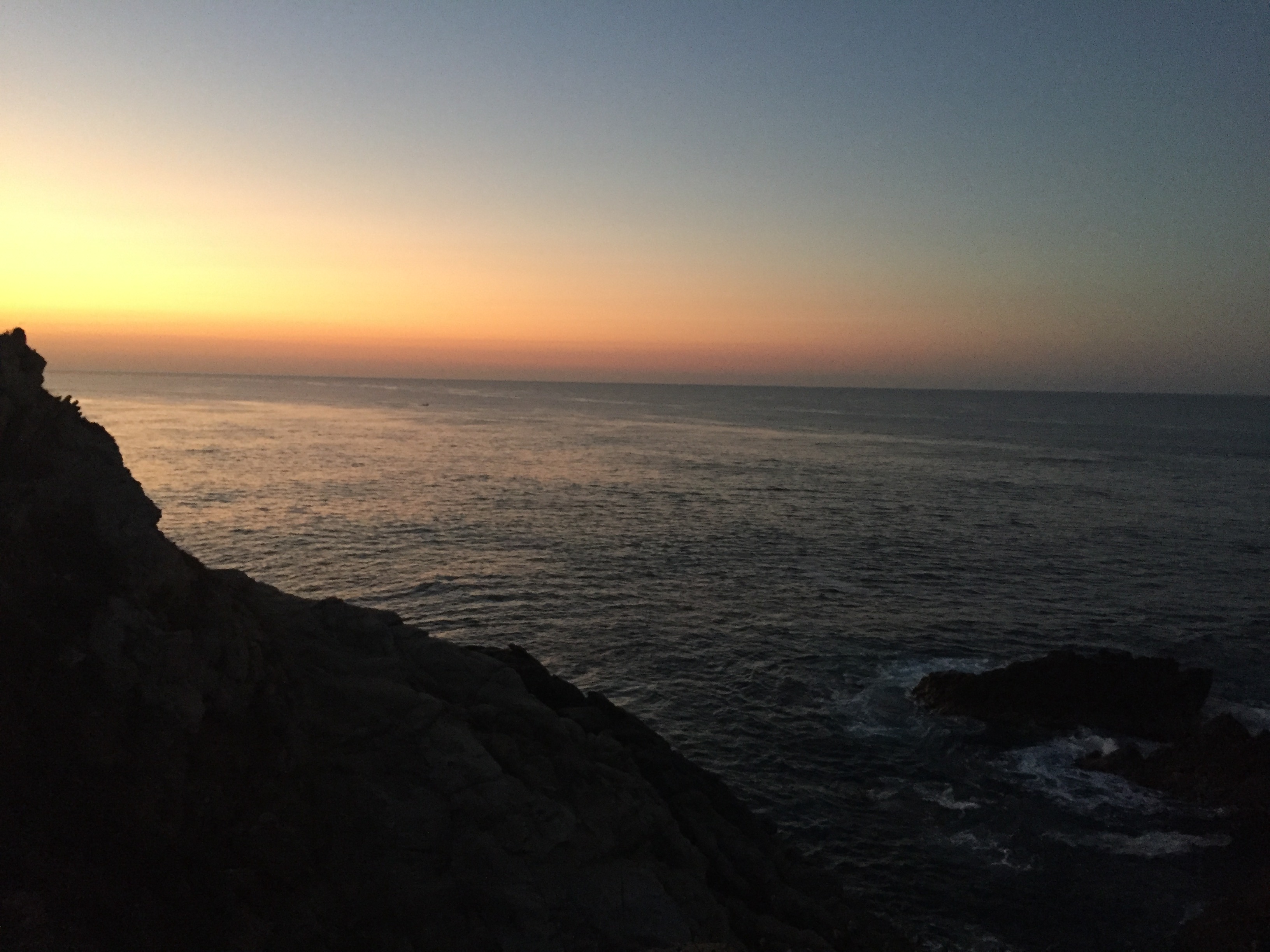 I was up before the sun.
Nothing could keep me from leaving my bed behind
leaving behind a fitful, restless night
filled with anxiety
of wanting to be more in life
of wanting to finish everything,
so that finally, somehow, at long last,
I could just…
Let Go.
"Let go!" everything within me screams,
as I bolt out the door,
leaving the tossed-about covers of my bed in a heap
grabbing nothing more than a pair of underwear and a sarong…
The streets of the village are as quiet as they get…
but that means a cacophony of birds
dogs running through the streets
people taking off to morning market on mopeds…
I run past them
past the last house
all the way…
My God…I know I've done this before…
bolted
out my door
past every house
past the very last one
and then…
I run faster,
as fast as my 46-year-old feet an carry me…
beating on the sand
faster…
faster than I ran from the bigger boys in school…
so fast that maybe all of the weights
of "getting shit done"
will finally be behind me
forever
I don't know how long I can hold it together you know.
I don't know how long I'll be able to hold on
to the old way
Yeah, you know…
the OLD way…
of fitful, restless nights,
thinking about how much responsibilities we have…
thinking we can get them done in our sleep,
so maybe we can wake up
and enjoy our lives
in peace
You know, I'm always telling people, "Heaven isn't a place we go when we die. Heaven is right here."
But tossing and turning till the sun comes up ain't heaven, now, IS IT?
***
I have to let go, really.
I have to let go of so many strongholds.
I have no choice.
I brought myself to this task…
of surrendering…
of being baptized…
Yes, that's right, I came to Mexico to be baptized…
not by a priest, mind you…
unless you count ME…
the priest who holds so many people in my arms…
desperately seeking
at last
to baptize…
himself.
***
I'm taking a course in an aquatic healing modality called AguaHara, on the Pacific Coast of Oaxaca, Mexico. The course lasts 2 weeks, 5 to 7 hours a day, mostly in a pool for demonstrating and practicing techniques, with special practice sessions in the ocean and lagoons. People from literally all over the world have come to take this course, and I, for one, have waited 9 years.
It's a modality that frees the body, prompting a complete let-go of inhibitions. I like to say it's like freeing oneself from the rigid constructs, and entering into a more fluid way of life. I mean…we all need structure, and we all need fluidity, but what I'm talking about is the BALANCE between the two which is—ultimately—Tantra.
Without banks, a river is just a puddle that spreads itself out so thin that it eventually just evaporates and disappears…
Somehow, I've finally gotten the clue, after a lifetime of searching, that if I let go just a little more, with focused will and intention, then life will perfectly organize itself.
***